Q: What was your favorite thing about our time at John C. Campbell?
Eric: You doing your rendition of a "morning song" dance-like march while walking on the paths to the Morning Song, or in most of the cases because we missed it, breakfast… "Morning song, morning song, we will miss the morning song".
Q: What do you think my highlight of the week was?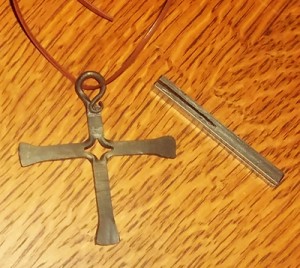 Eric: Winning the iron cross at the blacksmith demonstration. I don't think that was luck. You chose the number 45 — at least you didn't pick your age. That would have been lame. (Editor's note: I am not 45… yet. Eric is in big trouble for that comment. In the picture, the bar on the right is what the blacksmith started with to create this cross! It's my new favorite necklace! I love it.)
Q: What was your favorite meal there?
Eric: The roast beef and mashed potatoes at the Blacksmith's table. They aren't big on small talk and they eat fast. You get your dessert quicker that way. (Editor's note: I loved the vegetarian pizza. That was yummy!)
Q: How much did you miss Chance?
Eric: Chance I'm not sure, but I did miss Patches!
Q: What was the funniest thing you heard or saw while down at Brasstown?
Eric: I have two answers: one for "heard" and one for "saw". Since we could only get one radio station in and that was Country, it has to be that song "You're so good looking you hold 'yerself' together like a pair of bookends"… and singing it so romantically with that country music drawl those dudes do. The "saw" was when I went to the local store, I read that they have a possum drop. I'm not sure what that is but it sounded interesting. I guess they only do it one day a year. The store reminded me a lot about my old town Danbury, NH. A bunch of locals hanging out in front of a store waiting for something to happen. I was hoping to see a possum getting dropped but nothing happened. They said it pissed off a lot of PETA people when it made the New York Times.