Before we get to the five questions, I know I was supposed to post pics from Tony's workshop yesterday. I have good news and bad news. The bad news is that I inadvertently deleted all the photos! The good news is that I was able to go back in time and download the pics from my remote backup server! So I hope to have the pics uploaded for tomorrow. Now to the questions:
Q: Where is the largest collection of Fiesta salt & pepper shakers that you have ever seen?
Eric: Tony's dining room of course!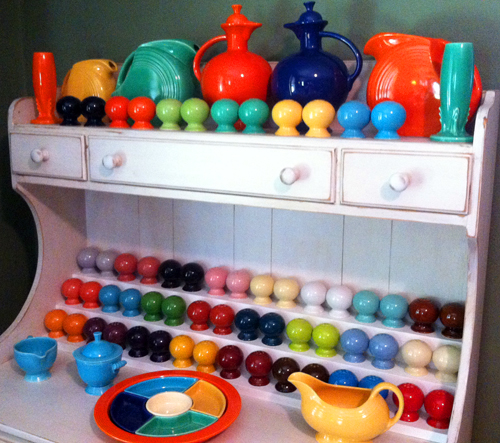 Q: What did I miss at Tony's workshop when I was in Chicago?
Eric: Lots of laughs. You missed Becky Willi busting Tony about the original thirteen colonies and other distorted stories of the past. She had everybody laughing especially when she made a statement that she doesn't talk a lot. She talked the whole darn time! And what a potty mouth! It will be interesting to see if Tony will allow her back again.

Q: What was your favorite restaurant while at Tony's?
Eric: The forty minute wait at Pappy's was definitely worth it for the smoked ribs and sweet potato fries. I highly recommend it for people near St. Louis. However, my linguini and clams at Zia's and their signature salad dressing wins it again this year.

Q: What aggravated you this week?
Eric: Using Tony's dull band saw to cut notches in the Shaker Apple Baskets! He profusely claimed that it was a new blade.

Q: Maybe it was a new blade. Why was it dull?
Eric: I asked Tony, "If this is a new blade, what were you cutting with it, metal?" And he stated, "No. I was using it to cut plexiglass squares for the back base of my stamps."
That'll do it!