The following is Part 2 of Mr. Basketmaker's Post – continued from yesterday…
So we get to Nashville. A month ago, the wife (Uber Kitty… the nickname will have to be explained at a later date) found online at airbnb, a vintage camper in some writer's backyard in the east end of Nashville. Very cool and there will probably be a Part 3 for that…
However, after Karma G. (the wife's cousin) arrived, we decided to head into the city a day early so we found another place for the three of us last minute on airbnb. Unbeknownst to me, the both of them knew I was going to get a private tour of Jack White's Third Man Records. So initially I told Lynne that we don't need to go a day early. Just keep it as the original plan. But she quickly said "We are going a day early and that's it. Don't mention it again." Her reply was out of the ordinary since we share just about everything, but I decided to just leave it alone.
We got into town around early afternoon and stopped at the last-minute basement flat we rented. And then we headed down to Third Man Records which was about ten minutes away. At this time I knew where we were going because one of those two spilled the beans. I think it was by mistake and I overheard. But that doesn't matter…
First, let me tell you that Jack White moved from Detroit to Nashville maybe eight or nine years ago? (could be totally off on that but the point is that he moved here to Tennessee.) He came from a not-so-great part of Detroit and ended up buying a building across the street form a methodone clinc, in not-such-a-great part of Nashville. This is what makes Jack endearing to me. He could have gone anywhere but chose a neighborhood in need of something positive.
I digress.
We arrive at Third Man Records at about 3pm. I have my preconceived notions and am thinking to myself how good is this going to be? My only reference is from a few shows like the time American Pickers went to his studio or when he was interviewed by Dan Rather. All I could recall was he had some cool vintage stuff but it was a very small showroom space.
Here's my impression: It was exactly what I had envisioned, except one thing…The place was packed with fans buying stuff left and right!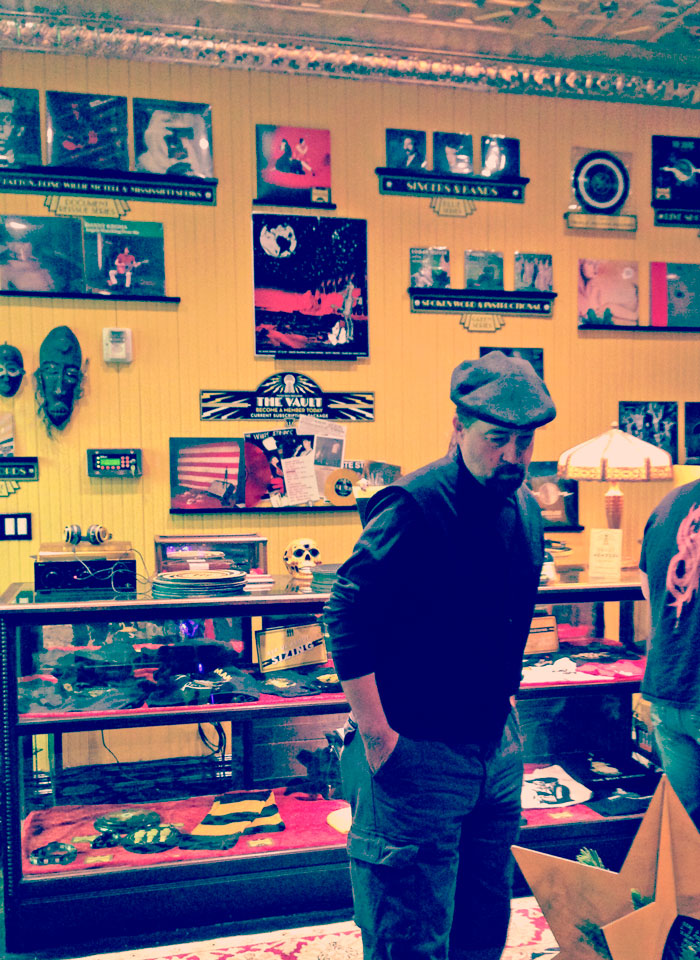 People were finding their way around the small retail space appearing to be enjoying the experience. There was a small record player on a counter piping the music throughout the store. And lots of other cool memorabilia to look at.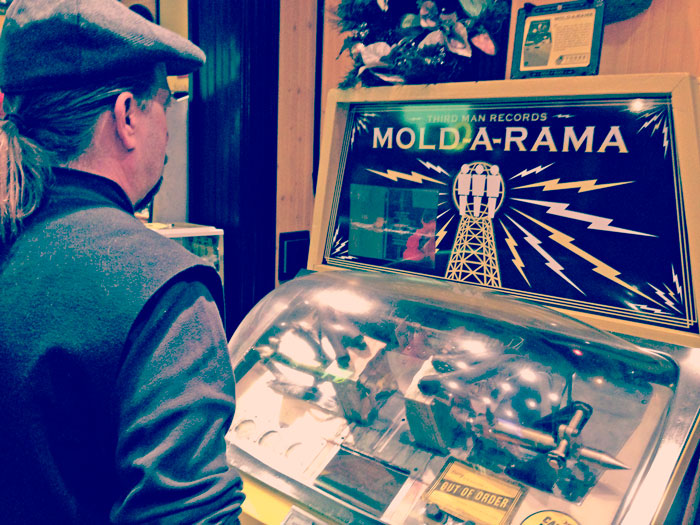 The next image shows his cool die-cut record sleeves. When Lynne saw the one out of wood she said I need to come up with a sleeve that is totally woven! Yeah, I'll get on that…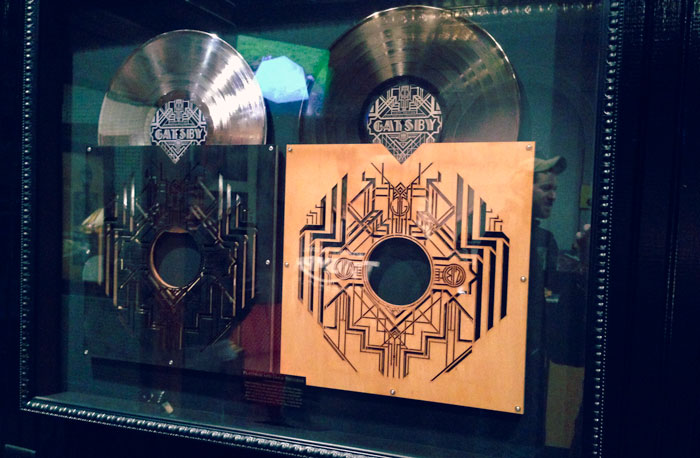 While inside the Third Man Records store, Karma G asks one of the staff for his friend who I will refer as "Bud." One thing I learned from this visit is that Jack surrounds himself with secrecy which I totally get. After five minutes or so of us checking the place out "Bud" comes out of a locked door right off the public space and tells us to "Come on back!"
This is rock star cool! We are going in the back where you have to know someone to get to. I caught a few people's expressions which were "why can't we go there?" The door locks and that's it. We are in. (Sorry other people.)
Once behind the door it was a blast. However I can only describe it because "Bud" disclosed that there are no pictures allowed in here at all, per Jack, except in the Blue Room.
What did we see?
Well, that will have to wait for Part 3… sorry. But the post is too long!
to be continued…